Reviews / Results
Mediation and Law Offices of Vivian L. Holley
Your thorough tracing, analysis and recommendations and your well-written "opinion" letter has added so much to my client's defense and will go a long way in convincing the judge to award my client the credits she is due …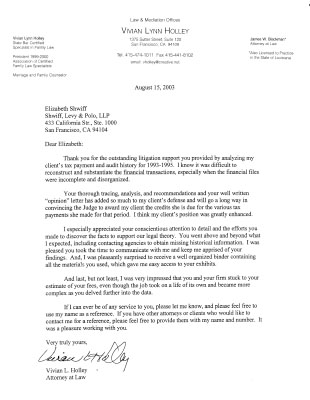 ---
Richard G. Avila, Attorney at Law
Until you stepped in … the client's case seemed indefensible because the trustee's expert, a former Internal Revenue Service Criminal Investigation Division fraud examiner, had extensively documented the circumstantial evidence against the client …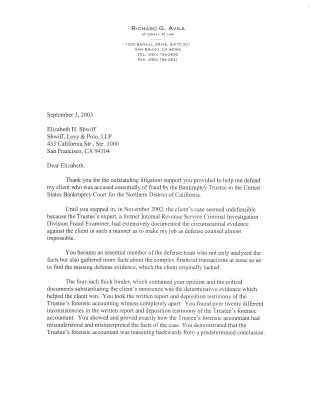 ---
Marcus Daniel Merchasin, Attorney and Counselor at Law
Your multilingual skills were invaluable in a case that required interaction with multiple disparate personalities … Your diplomatic approach and investigative skills were critical.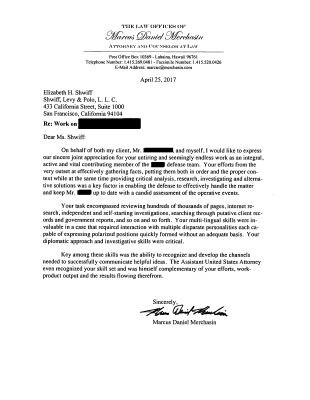 ---
Donna Salazar, Staff Atttorney and Mediation Coordinator
Elizabeth was one of our most accomplished mediators. She consistently received high evaluations from both the disputant and co-mediators.
---
Connie Moore Dunning, Director
Serving since 2005 as an arbitrator and since 2008 as a mediator for our Attorney/Client Fee Disputes program, [Elizabeth Shwiff] quickly became one of our more valued and reliable volunteers.